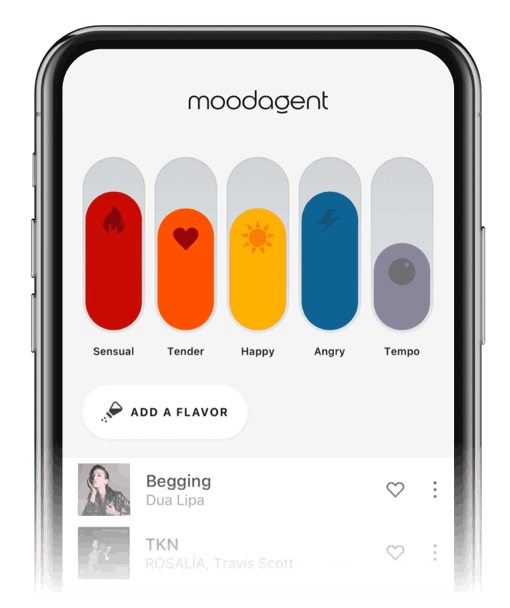 Getting Started
Moodagent on mobile:
1
Download the Moodagent app here:
Install
2
Follow the on-screen instructions to create your account.
3
Tell us what you like to listen to. You can choose from the suggested artists or search for anyone you want, as long as you pick at least three. You might wanna pick even more – this will be the foundation of your personalized experience on Moodagent.
4
Start listening. The more you listen, the more you ❤️, the more moodagents you create, the better your personalized recommendations will become.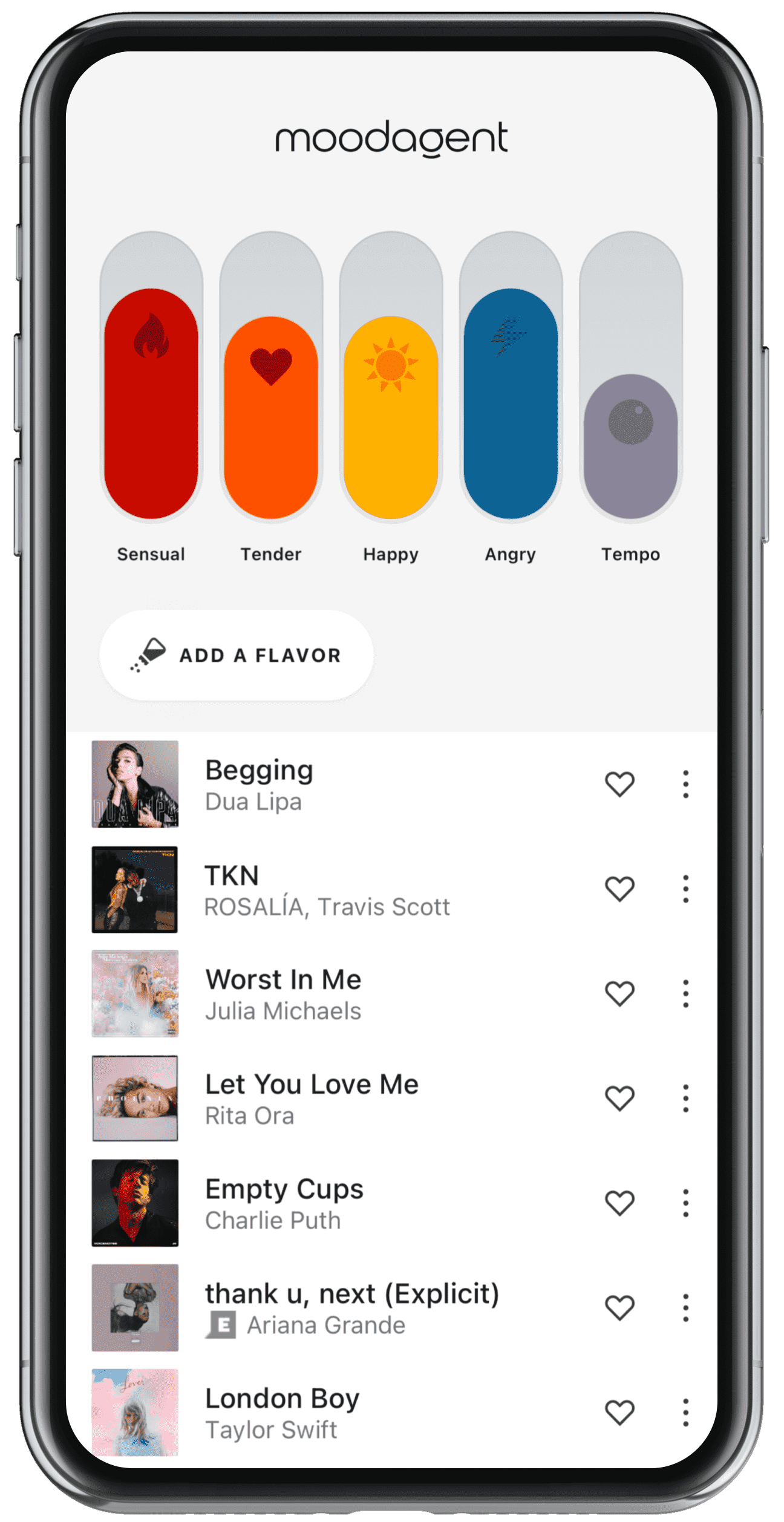 Moodagent on desktop:
1
If you already have a Moodagent account, continue to the next step. If not, follow the steps above to create your account using our mobile app.
3
Install as directed on your device.
4
Launch the desktop app and log in with your email and password. Hint: If you created your account using Apple or Facebook, you never had to choose a password. Just click 'Forgot password?' to get a verification code and enter that along with your chosen password.
5
Start listening. Now that you're rocking the desktop app, you can explore and discover at the office, at home, or when your phone just needs a break.
Got other
questions 

about Moodagent? We have answers.

Q

Does Moodagent offer a free trial?

A

Yes, we do. When you create an account, you automatically start your free two-week trial period. You get the fully-featured music streaming experience – all access, no limits. And if you subscribe to Premium during your trial period, you'll also get the first month for free.

Q

How is Moodagent different from other music streaming services?

A

A comparison of music streaming services like Spotify, Apple Music, Tidal, and Moodagent is like trying on shoes. They all look great and come in your size, but you gotta try 'em on to find the perfect fit.

But really, our musicologists have analyzed and contextualized an insane number of songs and then taught our patented AI to do the same to, literally, all other songs. As a result our recommendations aren't just personalized, they're also perfectly matched with the other songs on your playlist. Create a moodagent playlist from your favorite song. Then start a station (or whatever they call it) from that same song on any other streaming service. You'll see, hear, and feel the difference.

Q

How do I create a playlist?

A

If you let Moodagent's patented AI do the work for you, it's a bit like magic:

1. Tap the Moodagent logo.

2. Start from a song or an artist – or several!

3. Moodagent instantly creates an interactive playlist, personalized just for you.

4. Add more songs or artists – we call it'flavor' – and see how the playlist changes.

5. Adjust the mood sliders, if you want.

6. Listen. Discover. Love. Repeat.

Of course, you can also create playlists the old-fashioned way by adding songs one by one or even whole albums at a time.

Q

Can I download a playlist on Moodagent?

A

You can download playlists, albums, and singles for offline listening for as long as you're a subscriber. Interactive playlists – moodagents – are transformable by nature and can't be downloaded, but you can tap 'Add all songs to playlist', and download that playlist instead.

Q

Does Moodagent have ads?

A

No. Ew. We believe that music – art – deserves respect. Sometimes music discovery means losing yourself in the music. Sometimes it means hitting play and then forgetting about it until lightning strikes. Either way, it means streaming your music without disrespectful interruptions from ads, which is why we're a premium-only service.

Q

Is the sound quality good on Moodagent?

A

While we, too, occasionally enjoy the depth and richness of vinyl, Moodagent's sound quality – in technical terms 'compression' – is above the industry standard. But since you're asking, we're guessing you'll want to go ahead and increase the bit rate. Which you can. At no extra cost.
Didn't find what you were looking for?